Boston Logan Airport
Find the most important information about Boston Logan Airport: Flights (Departures, Arrivals), Parking, Car Rentals, Hotels near the airport and other information about Boston Airport (BOS). Plan your travel to Logan Airport with the information provided in this guide.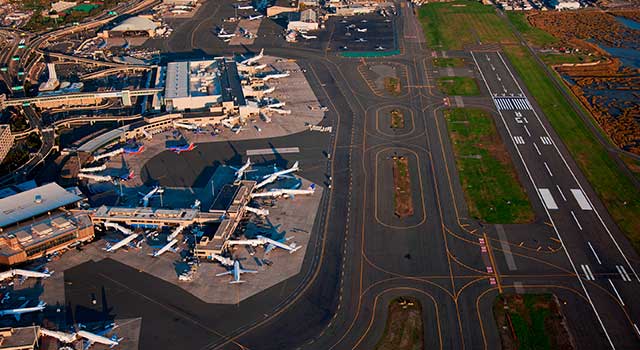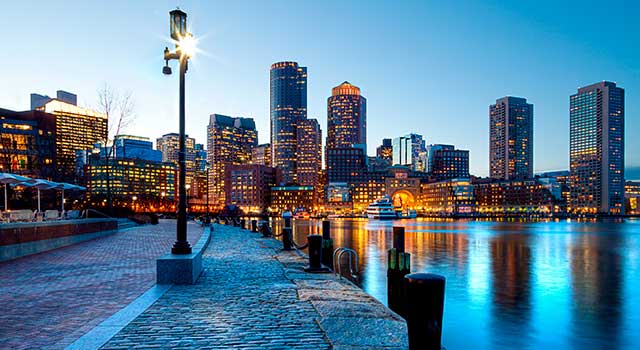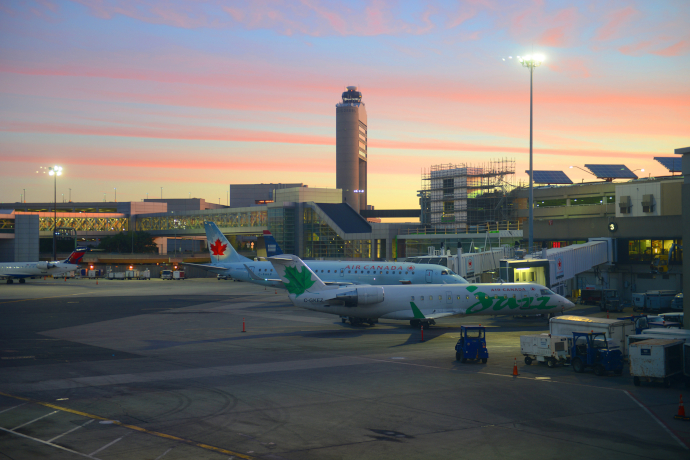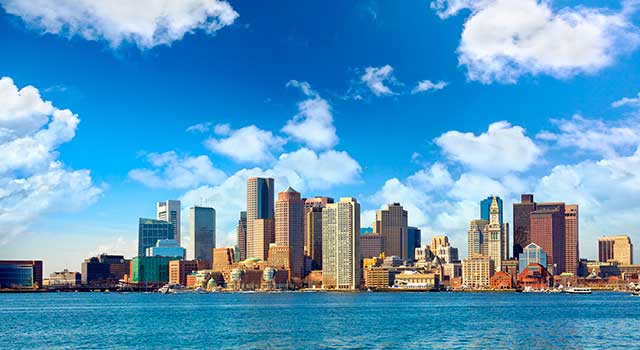 Boston Logan Airport (IATA: BOS, ICAO: KBOS), officially known as General Edward Lawrence Logan Intl. Airport, Logan Intl. Airport or simply Boston Airport, is the main international airport serving the city of Boston in Massachusetts, U.S.
Boston Logan Airport is located in East Boston, 3 miles from Downtown Boston. Top destinations from Boston Logan Airport are Chicago, Atlanta, London, Washington, Los Angeles, San Francisco, Orlando and Philadelphia. BOS Airport works as a hub for Cape Air and Delta Air Lines. It is a Focus city for JetBlue.
Boston Logan Airport handled 42,522,411 passengers in 2019.
During 2020, due to Coronavirus crisis, Boston Airport only registered 12,618,128 passengers.
In 2021, BOS Airport registered a total of 22,678,499 passengers.
Boston Logan Airport has 4 terminals: A, B, C and E connected via shuttle bus service.


Terminal A
Boston Logan Terminal A is composed by the Main Building and the Satellite Building. It has 21 gates.
See more information


Terminal B
Boston Logan Terminal B has gates from B1 to B38. The terminal consists of the North and the South buildings.
See more information


Terminal C
Logan Airport Terminal C is the one with more gates: C8-C10, C11–C21, C25–C36 and C40–C42.
See more information


Terminal E
Logan Airport Terminal is the International Terminal at BOS Airport.
See more information
At Boston Airport passengers have the following services available:

- Restaurants and cafés
- Duty Free
- Shops
- ATMs
- SmarteCarte
- Currency Exchange
- Shoe Shine Service
- Pet Relief Area
- Hydration Station
- Family Restrooms
The Airport in Numbers
- 4 terminals: A, B, C and E
- 6 runways
- Located 3 miles from Downtown Boston
- More than 10 car rental agencies
- More than 401,371 aircraft operations
Contact
Address: 1 Harborside Dr, Boston, MA 02128, USA
Phone: +1 800.235.6426
Lost and Found
There is a Lost and Found office located on arrivals level between Terminals C and E. Office hours: 7:00 am to 11:30 pm.
From BOS Airport passengers can use the following transportation options:
Logan Express: Non-stop bus that runs between BOS Airport and Braintree, Framingham, Woburn, Back Bay and Peabody in 45 minutes maximum.
See more information


Bus: Several private companies and hotel shuttles provide transportation from and to Boston Logan.
See more information


Water Shuttles: Connects with Downtown Boston and other interesting places. 66 route Shuttle bus for free between Boston Dock and all the terminals at the airport.
See more information


MBTA: Public transportation offers different options to get from and to Logan Airport.
See more information


Taxi: In all terminals, taxis wait outside the arrivals level. To go to Downtown Boston fare is about $25-$45.
See more information

Transfers: If you want private transportation to and from Boston Airport you can book a transfer.
See more information
Car rental: Renting a car is a good option to move around. Check our search engine to find the best offer for your car.
See more information
About Boston
Boston is a popular city and one of the oldest ones along the United States, founded in 1630.


It is one of the cities with more history in the country, being very relevant in the American Revolution, the Boston Tea Party, the Battle of Bunker Hill, among others.


Currently, it is a very important port and manufacturing area and a focus point for technology and innovation, as concentrates more than 2,000 start ups.


When visiting Boston you can't miss Museum of Fine Arts, Trinity Church, Fenway Park, New England Aquarium, Institute of Contemporary Art, Harvard Yard, Boston Public Library, among others.