Boston Logan Airport (BOS)
Use this website to quickly find the most important information about Boston Logan International Airport: Flights (Departures, Arrivals), Parking, Car Rentals, Hotels near the airport and other information about Boston airport. Plan your travel to Logan Airport with the information provided in this site.
Boston Logan Airport (IATA: BOS, ICAO: KBOS), also known as Logan International Airport, or simply Boston Airport is the main international airport serving the city of Boston, Massachusetts, United States. The airport is located in East Boston, 3 miles driving from Downtown Boston.
BOS airport serves as a hub for Delta Air Lines and for Cape Air and PenAir as well. It is a focus city for JetBlue. Another airline that carries out operations from the airport is American Airlines.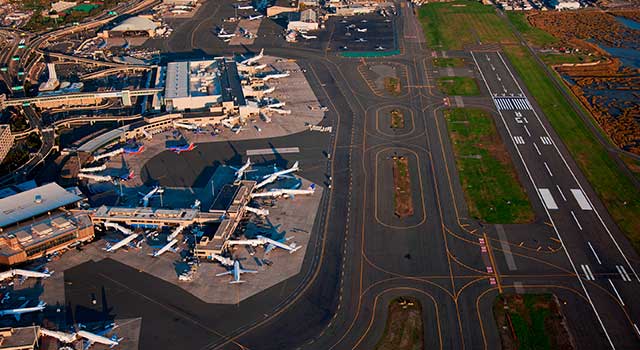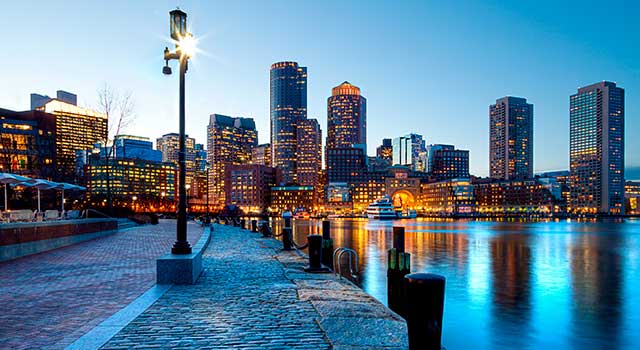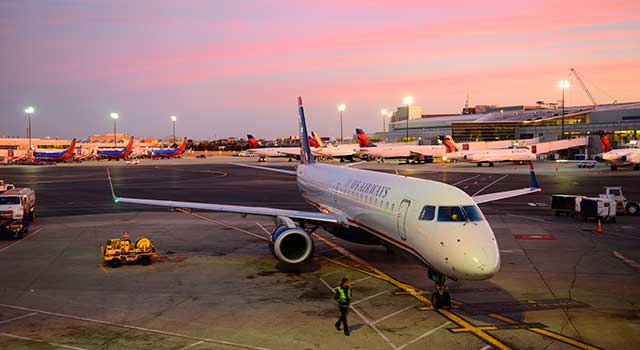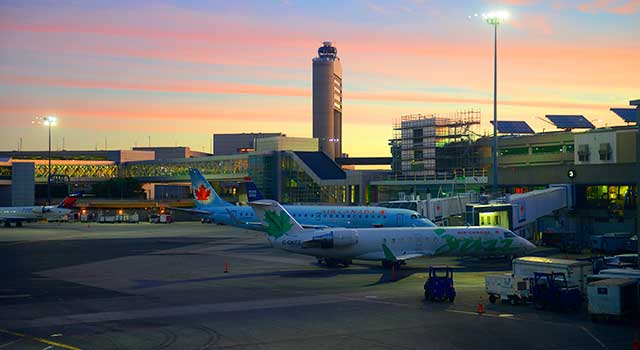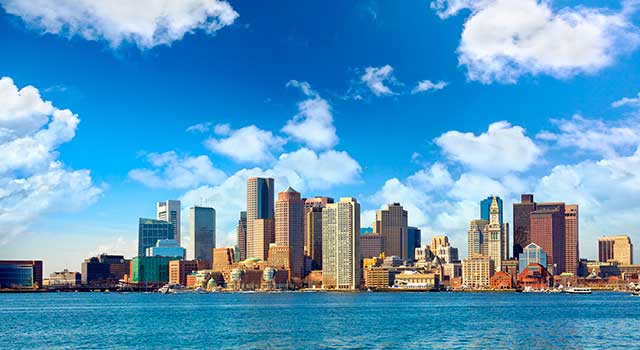 The airport handles domestic and international flights, being the top ten busiest routes the following ones: Chicago, London, Atlanta, Washington, San Francisco, Los Angeles, Philadelphia, New York, Baltimore and Charlotte.
In 2015 the airport handled 33,449,580 million passengers, this number ranks Boston airport as the 18th busiest one in the United States. The same year the airport managed 372,928 aircraft operations.
Terminals A, B, C, E
Boston airport has 4 terminals: A, B, C and E. All terminals are connected via a shuttle bus service and through the Silver Line (MBTA).
A Central Parking connects directly with all the terminals.
- Terminal A: there is the main building and the satellite building. It has 21 gates and hosts two Delta Sky Clubs.
- Terminal B: It has gates from B1 to B38 and are grouped by area.
- Terminal C: It is the one with more gates C8-C10, C11–C21, C25–C36 and C40–C42. It has a non-denominational chapel.
- Terminal E: the International Terminal at BOS airport. It has three different levels (first one is for arrivals and the second and third one are for departures). Gates: E1a, E1b and E2 (located on the second level) and E3a, E3b, E4, E5, E6, E7a and E7b (third level). There are a lot of International airlines that operates with the terminal.
Airlines by Terminal
- Terminal A: Delta, Southwest and WestJet.
- Terminal B: Air Canada, American Airlines, PenAir, Spirit and United.
- Terminal C: Aer Lingus, Alaska Airlines, Cape Air, Emirates, JetBlue, Sun Country Airlines, TAP Portugal, Virgin America.
- Terminal E - International: AeroMéxico, Air Berlin, Air France, Alitalia, American Airlines, Azores Airlines, British Airways, Cathay Pacific, Copa Airlines, Delta, EI AI, Emirates, Hainan Airlines, Iberia, Icelandair, Japan Airlines, JetBlue, Lufthansa, Norwegian, Porter, Qatar Airways, Swiss, TAP Portugal, Thomas Cook Airlines, Turkish Airlines, Virgin Atlantic and Wow Air.
Boston Logan Airport in numbers
- 4 terminals: A, B, C and E
- More than 33 million passengers in 2015
- 6 runways
- Located 3 miles from Downtown Boston
- More than 10 car rental agencies
- More than 370,000 aircraft operations
Transport
- Logan Express: non-stop bus that runs between BOS airport and Braintree, Framingham, Woburn and Peabody in 45 minutes maximum.
- Shuttle Bus: MBTA Blue Line runs between all the terminals at Boston Airport as well as to the Airport Station. Buses run every 5-6 minutes.
- Water Shuttles and Taxis: connects with Downtown Boston and other interesting places. 66 route Shuttle bus for free between the Boston Dock and all the terminals at the airport.
- MBTA: There are two lines that offer service at the airport:
- Sliver Line Bus: At the first stop (South Station) connects with the commuter rail Red Line.
- Blue Line Subway: Connects with the Green and Orange Line and the Commuter Rail at North Station.
- Taxi: in all terminals taxis wait outside the arrivals level. To go to Downtown Boston fare is about $25-$45, depending of the day/hour/traffic jam.
To get more information about transportation, please, click here
Facilities and Services
Boston airport provides different services and facilities to all passengers as Free Wi-Fi, Duty Free Shops, Stores, Restaurants and Bars, Business Services, Spa, Chapel, a Children's Play Area, Chapel and two different Hotels.
Car Rental
Contact information
Address: 1 Harborside Dr, Boston, MA 02128, U.S.A
Phone: +1 800.235.6426
Lost and found
For items lost in the public areas of the terminals, passengers can call: (617) 568 7514
For lost items lost at:
Security Checkpoints, please, call: (617) 561 2047.
Customs Hall: (617) 5681810.
Lost Items on Aircraft or Boarding Areas, please, get in touch directly with your airline.